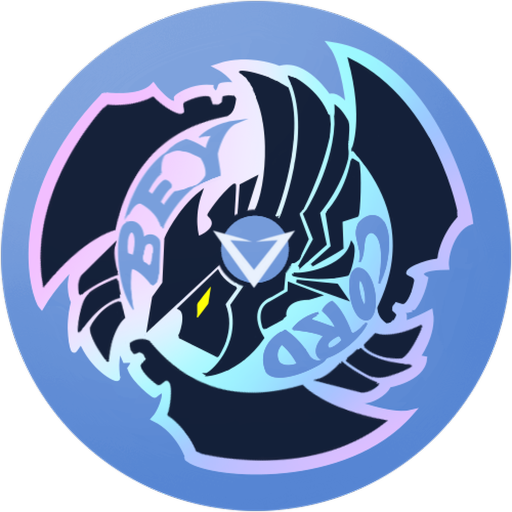 ONLINE
Beycord
discord.js
Ever wanted to play Beyblade on Discord? Then this bot is for you! Battle, claim, trade, train and more while chatting with your friends.
Beycord Commands Prefix: ; (Customizable)
Created By:
SunSOG# 0972
What does Beycord have?
Collect all the Beys as they spawn!
Your own blader profile.
How can a Bey exists without Beyblade battles? So go battle your friends as you chat!
You'll gain EXPs as you chat. When you reached a certain amount of EXPs, you and your equipped Bey will level up.
Is your enter key broken and you can't chat to gain EXPs? Not to worry, Beycord has a unique VC leveling system. Just join a voice channel, start talking (or screaming) and you'll gain EXPs as usual.
and much more!
How to begin with Beycord?
It's easy just follow the steps below.
Type ;start.
Follow what it tells you to do in the returned message.
Done! You can begin your journey to become a Master Blader.
For a list of commands, type ;help
Tips to grow your stats
Try to upvote the bot every 24 hours and do the command ;daily to gain a certain amount of EXPs and coins. You can also upvote the bot if you want to help grow the bot's popularity. Besides, try to talk as much as you can with people in a server with Beycord in it. On the other hand, try to keep up to the newest code that the developer puts out and claim it as quickly as possible as it will expires after a certain amount of time and it gives you a lot of stats. Join the support server of Beycord by clicking here because codes are usually posted on there if not on the developer's social media.
Premium
Premium is a type of lifetime membership in Beycord that ONLY COSTS $5 and gives your double daily rewards, Cho-Z Achilles (donation exclusive), access to a secret chat room in the Overcold Discord server, a badge in your blader profile, a special role to hoist yourself above all normal members in the Overcold Discord server and more! $5 is a great price right? The Overcold Discord server is basically Beycord's support server, you can join it by clicking here. To buy premium, click here to purchase it and do ;getpremium in the Overcold Discord server to claim and activate it. You must be in the Overcold Discord server before buying it or else your money will be wasted as Beycord checks for the Premium role on your Discord profile to know whether or not you purchased premium.
Interested in supporting Beycord?
Click the "Donate" button on top. Every money donated are appreciated and will be used in developing new things. Please donate if possible because keeping Beycord alive 24/7 requires a lot of money.
Contribute
Interested to help Beycord get all the Beys added in faster? NOW YOU CAN!!! Visit the Beycord Bey Kit Github and download the latest release. Make sure to "watch" the GitHub project so you can get updated when there's a new release. Instructions to make a Bey are written on the README and you can join Beycord's support server by clicking the "Join Support Server" button above if you need help. After you finished making a Bey, email it to [email protected].
(All contents used in this bot belongs to their respective owner(s).)