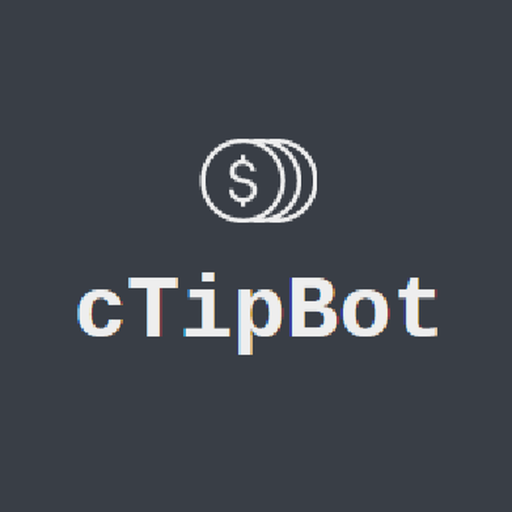 ???
cTipBot
discord.py
cTipBot is a cryptocurrency tip, rain and faucet bot. It supports multiple cryptocurrencies and more will be added soon.
Created By:

Simon# 4964
cTipBot is a cryptocurrency tip, rain and faucet bot.
Perfect for keeping your server active, only active users are valid for rains.
Or to easily send coins between members of your server.

Its also possible to restrict certain coins on the server, in case you only want to allow use of one or a few of the supported coins

Currently supported currencies are:
Bitcoin (BTC)
Litecoin (LTC)
Dogecoin (DOGE)

More will be added very soon.
The goal is to support many of the popular altcoins that not yet are supported by other tipbots.
Tron and Ethereum token support are also planned.
Bot will send out an announcement when new features/coins are added.

Current valid commands for the bot are:



!tip/share/give Tip a ticker amount userMention
!faucet Faucet. !faucet ticker
!coins Gets a list of supported coins. (More coins will be added soon)
!deposit Generates an address in the bot that you can deposit coins to. !deposit ticker


!setbotchannel Sets the channel where bot commands are allowed (Admin only) !setbotchannel channelMention
!setguildsupportedcoins Sets the coins thats allowed to be used in this guild. (Admin only) !setGuildSupportedCoins ticker1 ticker2...
!w/!wallet/!balance/!bal Check your own wallet for specified coin !w ticker
!withdraw Withdraw specified coin to wallet address. !withdraw ticker amount address Verify that the address is a valid one. A transaction cannot be reversed.
!rain Rains ticker amount on the 25 latest active users
To donate coins to a faucet, tip the amount you want added to the bot.
For tips, rain and withdrawals there is an 1% fee that will go towards paying for bot hosting.