Created By:
mdev01# 0001
GENERAL INFORMATION
GigaBot is a bot that has TONS of fun and moderation features!
GigaBot is great when wanting to give a full effect on moderation and when it comes to fun and games, you can count on us!
The entire GigaBot team focuses on making life easier for people. GigaBot is a project that can do just that. If you have any suggestions for the bot, feel free to join our support server linked down below (or up?) on this page.
So, What servers use GigaBot?
Some servers that use GigaBot include:
BattlLands OFFICIAL Discord
Dope Madness Gaming Discord
Gamer Squad Discord
AND MORE!
OTHER INFO: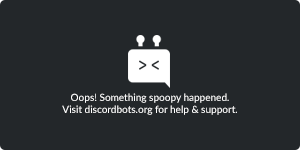 SUPPORT
MORE COMING SOON!