Chiky bringing together in a single bot MEE6, Dyno, Rythm, and many great bots, but Chiky improves everything, and you improve us!
Chiky Project
Hello I'm Chiky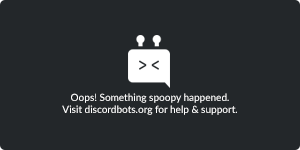 Features
💰 Global Economy
Chiky also offers a global economy, so you can compete with many users on Discord and reach the top of the top!
🆙 Level
I also have a leveling system with assignable roles! It's 100% fast and fast, and the assignment is instantaneous!
⚒ Moderation
I have many moderation commands, which will help you manage moderation on your server!
🎵 Music
I have an optimal music system! Music in excellent frequency! And great controls to have fun with it too!
🔊 SoundBoard
I also have soundboard controls for now I only have [c?airhorn] my development team will add more soon!
😄 Fun
Of course there is no shortage of fun, there is guaranteed fun!
🔧 Utility
Of course, in addition to being fun, I will also have to be useful, in fact they are very useful in various areas!
🛡️ Auto-Moderation
Coming Soon!
🖼️ Photoshop
Do not install unnecessary apps to photoshoot something, you can safely use me!
💡 Backup
I also have a great backup system!
🎮 Mini-Games
I also have lots of mini-games both singleplayer and multiplayer, so you won't be bored anymore!
💎 Much More!
My development team is working on many other features, including the economy, a global role-playing game, dashboards, server stats, and much more ... I finish spoiling and now you can safely invite me!