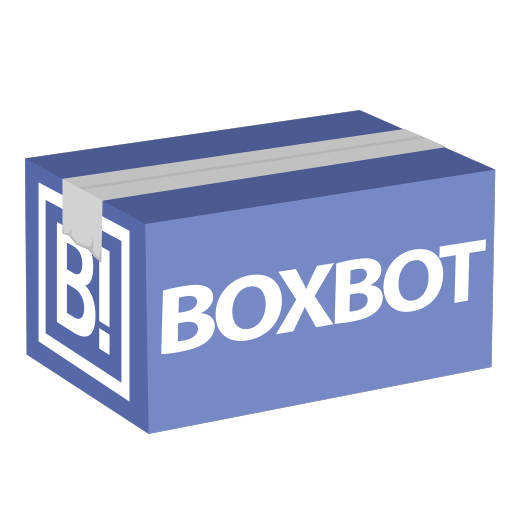 ONLINE
BoxBot
Eris
A fun Discord bot where you can open random boxes to get random items - and then use those items to attack your friends!
Created By:
logan# 0001
This Bot Powers the Following Communities:
I am working hard to make this bot as best as I possibly can with very frequent updates. I am the only programmer and have some friends working on art. If you wish to submit any art for the bot, feel free to send me a DM on Discord, or post it in the #suggestions channel in the BoxBot server.
Rules
No multi-accounting! Staff monitor trade logs and anyone found to be multi-accounting to gain an unfair advantage over other players will be punished.
No friend-using! This is essentially the same as multi-accounting, except "your friend" sends you the items.
No bug abusing! If you find any bugs, especially ones that are exploitable, please report them to an admin in the BoxBot Discord server! Anyone found to be abusing a bug will be punished.
Breaking any of the above rules may result in your account being trade-banned and/or an inventory reset.
Notices
In order for the bot to work correctly, it must have the following permissions in the channel(s) you intend to use it in:
Read Messages
Send Messages
Manage Messages
Read Message History
Attach Files
Add Reactions
Use External Emojis
Embed Links
If you have any issues with the bot, please don't hesitate to query in the BoxBot server!:
Invite code: uXXZWKa
Commands
To get a list of commands, type b!commands. To see more information about a command, use b!cmd <command>, replacing <command> with the name of the command.
Here is a list of useful commands to get started:
b!weekly - receive an ultra rare box. Has a cooldown of 7 days.
b!daily - receive a rare box (or a 7% chance of receiving two rare boxes). Of course has a cooldown of 24 hours.
b!use <item name> - use an item. You can type b!use rare box to open the rare box you just received as your daily reward, and b!use ultra rare box to open the box you received from your weekly reward.

This command can be used with weapons and healing items, too.

b!unbox - opens a box with a random item of common tier or above. This command has a cooldown of 60 minutes.
b!trivia - asks you a random multiple-choice question. Answer correctly and receive a common box, two common boxes, or an uncommon box depending on the question's difficulty. Has a cooldown of 30 minutes.
b!claim - Claims an extra daily reward (rare box). Note that this command can only be used by people who have voted for the bot.
b!inv - View your inventory (and money, health, and whether or not you have a shield active).
b!items - View a list of all items. You can then use b!item <item name> to see more information about an item.
b!sell <item name> x1 - sell 1 of <item name>.
b!buy <item name> x1 - buy 1 of <item name>.
Items
To get a list of items, type b!items. To see more information about an item, use b!item <item name>, replacing <item name> with the name of the item.
Here is a list of what each type of item does:
weapons - attacks a random user in the same server.

if the weapon is a gun, it will require one of its ammunition to be used. If you are unsure what ammo is used by the gun, type b!item <gun name>.

ammunition (such as bullets and rockets) - must be used in conjuction with a gun.
moneybag - will give a random amount of money between $400.00 and $650.00.
boxes - will give a random item of at least that tier (for example, uncommon boxes will reward at least an uncommon tier item, rare boxes will reward at least a rare tier item, etc.)
health items - will increase your health.
magnet - will steal money from a random user in the server (random amount between 1% and 10% of their total money).
shield - will give you an extra layer of health, between 50 and 70. A shield will also block steal attempts from a magnet, however the magnet will deal 10-20 damage to shield instead.