Created By: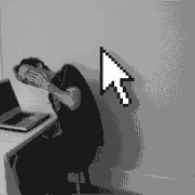 Andy# 1801
Discord FAQ bot
A simple simple bot that helps you answer frequently asked questions on your server.
Commands
The standard prefix is !faq, but if that doesn't work you can also do @FAQ <command>.
!faq add <name> <description>  Add new FAQ
!faq delete <name>             Delete specific FAQ
!faq help (command)            Display help
!faq list                      Show all FAQs
!faq setprefix [prefix]        Set or check command prefix
!faq show <name> (@user)       Show specific FAQ

Standard use case
After inviting, set up the bot by adding one FAQ to the bot:
!faq add prefix To change the prefix you can do '!faq setprefix !'
Now when a user asks how he can change the prefix, you can simple do
!faq show prefix @user
or a shorthand
!faq . prefix @user
This will mention the user and send him the answer you specified.
Planned features
Ability to DM new users instructions how they can use the FAQ bot themselves (!faq list)
Maybe some kind of NLP to analyze the messages and identify if someone needs help and then reply automatically.