MineTools is a new bot inspired by minecraft this new bot has and information commands about the game like minigame commands and more.
MINETOOLS

---
DISCORD MINECRAFT BOT
MineTools is a new discord bot, this bot is inspired by the Minecraft Worlds. The bot has as much information about the game's mobs and tools as commands to see your skin profiles, see how many people there are on a server and much more! It also stands out for the complete economy that the bot brings, it is inspired by Minecraft Dungeons and in it you can explore the world to find MineCoins, kill mobs to get Mob Kills and mine to get Minerals and more.
---
MINETOOLS ECONOMY
To start playing the economy you will have to have clear basic commands.
To see all the economy commands you can use m!economy help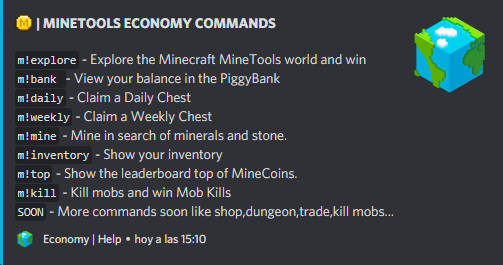 With MineTools economy you can have a good fun time looking for minerals killing mobs and exploring to get minecoins!
---
MINETOOLS MINECRAFT INFO
Minecoins also has Minecraft information commands from both its mobs and its tools. To see more fully all the commands you can use m!mcinfo help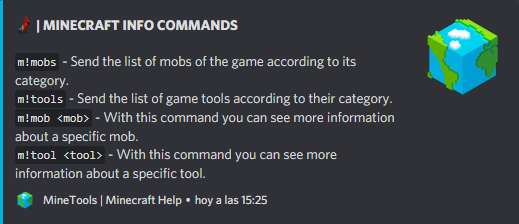 You can see the information of any mob such as: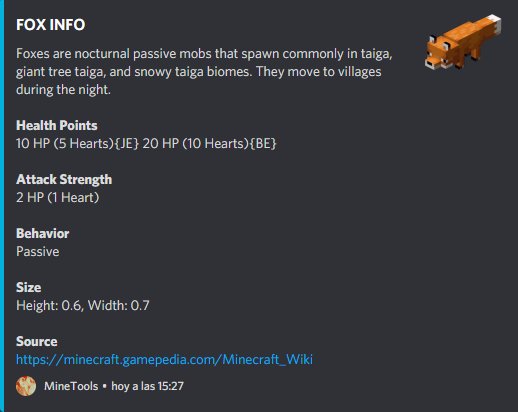 All the information has been taken from the Official Minecraft GamePedia Wiki!
---
MINETOOLS USEFUL MINECRAFT COMMANDS
With MineTools you can use a lot of useful minecraft commands. How to see your skin in different ways: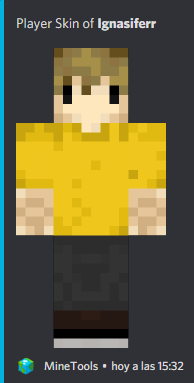 You can also see if a server is online how many players they have and even the logo they have.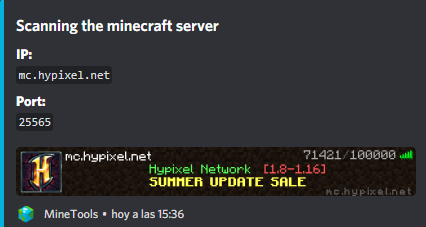 ---

MINETOOLS ALL COMMANDS
You can see more commands with m!help to know all the bot commands.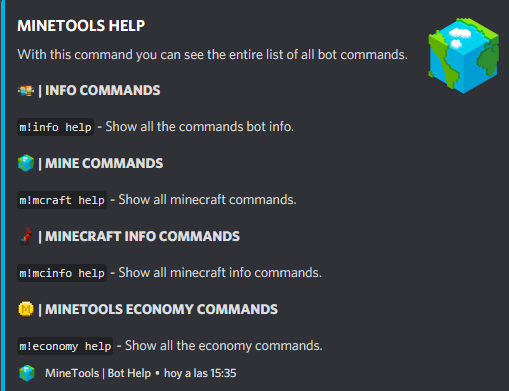 IMPORTANT LINKS